The LGBTQ+ Real Estate Alliance was launched in June 2020 by leading members of the real estate industry. Influential real estate professionals and allies have joined with other members of the LGBTQ+ community to create a new voice in real estate. 
The Alliance began accepting members from all professionals of the real estate starting October 2020. There are currently more than 1,400 active people on the organization's Facebook group.
Founded as a non-profit corporation with a pending 501(c)6 filing, the Alliance is dedicated to enhancing the professional lives of our members while providing consumers with the proper resources to assist in buying, selling and enjoying their home.
Because sexual orientation and gender identity exist on a spectrum, it's impossible to characterize it briefly. LGBTQ+ stands for the Lesbian, Gay, Bisexual, Transgender and Queer communities. The "Plus" encompasses all the identities that are not covered in the acronym.
The traditional colors of the rainbow typically represent the lesbian, gay and bisexual communities. Our logo includes blue and pink which represent the transgender community. The black and brown colors represent the Black community, Indigenous people and people of color (BIPOC).
For any minority group, the support of allies are critical. Allies are the people that do not fit into the LGBTQ+ identity, but support the equal rights of those within the community.
Allies can include individuals and even companies like our Corporate Partners. 
The law allows discrimination against LGBTQ+ people in 27 states 
This single fact is the why our mission and the services of LGBTQ+ real estate practitioners are so vital to the community.
Although LGBTQ+ people are protected in some states and municipalities, federal Fair Housing Laws do not include sexual orientation or gender identity as protected classes. This allows legal discrimination in 27 states which can cause barriers to homeownership, obtaining a loan, renting, and more.* 
The LGBTQ homeownership rate is 49%, far below the homeownership rate of 64% for the general population. Fear of any type of discrimination in the future home buying process is a concern for 46% renters.*
Vision
To create a world free of housing discrimination.​
Mission
Advocate. Elevate. Celebrate. Advocate for fair housing for all and promote LGBTQ+ homeownership. Elevate professionalism in the industry through education and networking. Celebrate diversity and inclusion in our members and allied partners.
Values
CommunityCollaborationEquality + EquityInclusion Transparency Pride
Core Belief
We believe in accountable leadership to the members of the organization, as well as the practice of transparency from all members, in all things. We will be an organization that hears every voice and will reflect the values and ethics of its members.
Leadership
The Alliance is governed by a board of directors and officers over the membership. 
Staff
Ryan Weyandt
Chief Executive Officer
Mary Mancera
VP, Business + Relationship Management
David Siroty
VP, Communications + PR
Councils
Thank You
The organization was created at the direction of a 53-person Steering Committee, led by an 11-person Executive Board headed by Chairperson Ryan Weyandt. 
Together, these volunteers combined their passion, knowledge and expertise to guide the development of critical assets including bylaws, mission statement, website, naming, logo and chapter development. 
We also greatly appreciate the financial support of our Founding Contributors who helped fund the establishment of our organization.
Listed alphabetically by first name.
| | |
| --- | --- |
| Alex Cruz | Joshua Baumgardner |
| Amelia Robinette | Julie Nelson |
| Amy Adams | Kenneth Osborn |
| Anthony Hitt | Kimber and Grady White |
| Anthony Vulin | Lauren Feher |
| Brandon Jordan | Lydiana Navarro |
| Brian Maguire | Marcus Saitschenko |
| | Mark S. Rosenberg |
| Bruce Williams | Martin Scott |
| Christopher Suranna | Mary Mancera |
| Chuck Garrett | Michael Jewer |
| Darryl Hunt | Michael Tessaro |
| Dave Gervase | Michael Ussery |
| David Ferrando | Mj Moss |
| Dennis Gorman | Monty D Smith |
| Ellen Grubert | Nada Djomehri |
| Eric Axelson | Octavius Smiley-Humphries |
| Eric Wyse | Portia Ryan |
| Erin Morrison | Rodney Mason |
| Geoff Hamill | Ron Crouse |
| Guy Parker | Ryan Weyandt |
| Jackie Garber | Sandy & Jeff Naragon |
| Jay Feldman | Scott Poe |
| Jeffrey Lines | Shannon Brien |
| Jeff Little | Skip Kirst |
| Jen Haggard | Spencer L Eiseman |
| Jim Meyer | Timothy Garvey |
| John Harper | Tracie Mayo |
| John Thorpe | Valeria Scinto |
| John Westfall-Kwong | Zachary Krasman |
Local Chapters
Commitments for 50+ Chapters in 30+ States
Delegates in more than 30 states have committed to help the Alliance launch more than 50 chapters in 2021. Our initial plan begins with the introduction of Alliance chapters in Austin, Atlanta, Orlando, Baltimore, Minneapolis and Los Angeles by the close of 2020.
The mission of the Alliance Chapter Program is to provide local gathering points for LGBTQ real estate practitioners. We want to enrich members through education and networking opportunities that grow their businesses and enhance their professional lives. 
Our quest is to build the scope and influence of chapters at the local level through partnerships with local nonprofits and through programming that integrates LGBTQ groups like NGLCC, PFLAG, NFHA and state and local real estate associations. We seek to increase the awareness and understanding of the issues and challenges that confront LGBTQ+ customers.
The colors above depict the 13 Chapter Delegate Regions.
Region 1: Delegate TBD

Connecticut: Open

Massachusets

:

Maine: Open

New Hampshire: Open

Rhode Island: Open

Vermont: Open

Region 2: Delegate TBD

New Jersey:

South Jersey: Jeremiah Kobelka & Pip Haxby

New York:

New York City: Scott Klein

Pennsylvania:

Pittsburgh: TBA

Philadelphia: TBA

Region 3: Delegate TBD

Delaware: Open

District of Columbia: Chris Suranna

Maryland: 

Virginia: Open

West Virginia: Open

Region 4: Delegate TBD

Kentucky

Louisville: Robert Butler

North Carolina

South Carolina

Tennessee

Region 5: Delegate TBD

Alabama

Birmingham: Jake Callahan

Florida

Georgia

Mississippi

Starkville: Josh Whitlock

US Virgin Islands: Open

Puerto Rico: Open

Region 6: Delegate TBD
Region 7: Delegate TBD

Illinois

Indiana

Indianapolis: Roger Lundy

Wisconsin

Central Wisconsin: Jenni Welch

Region 8: Delegate TBD

Iowa

Minnesota: Amy Ruzick

Nebraska: Open

North Dakota: Open

South Dakota: Open

Region 9: Delegate TBD

Arkansas: Open

Kansas: Open

Missouri: Hank Vogt

Oklahoma: 

Oklahoma City: Tyler Sorrells

Region 10: Delegate TBD

Louisiana

New Orleans: Logan Morris

Texas

Region 11: Delegate TBD

Arizona

Colorado

Nevada

New Mexico: Open

Utah: Open

West Virginia: Open

Region 12: Delegate TBD

Alaska

Idaho

Montana

Oregon

Washington

Region 13: Delegate TBD

California

Hawaii

Guam: Open
The LGBTQ+ community has an annual purchase power of nearly $1 trillion in the US and an estimated $3.7 trillion globally. The community is a huge consumer force that votes with its dollars. 72% of LGBTQ+ people have made a conscious decision to make a purchase over the past 12 months partially due to a company's LGBTQ-inclusion.*
This equates to opportunity for companies that want to tap into the power and influence of LGBTQ+ real estate practitioners who sway the choices of LGBTQ+ customer. 80% of LGBTQ+ agreed that companies that support LGBTQ+ equality will get more of their business this year.*
Through its partnership offerings, the Alliance strives to a partner that listens to your feedback, enriches your business plans, educates your workforce about LGBTQ+ and increases your business by approaching LGBTQ+ issues as a business opportunity.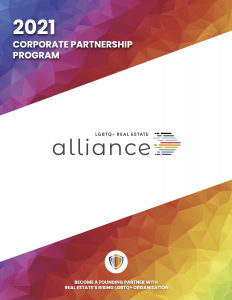 Learn about Partnership Opportunities

For a copy of the Alliance 2021 Corporate Partnership Program, email Mary Mancera
General Contact
PO Box 18491
Saint Paul, MN 55118
Media Inquiries