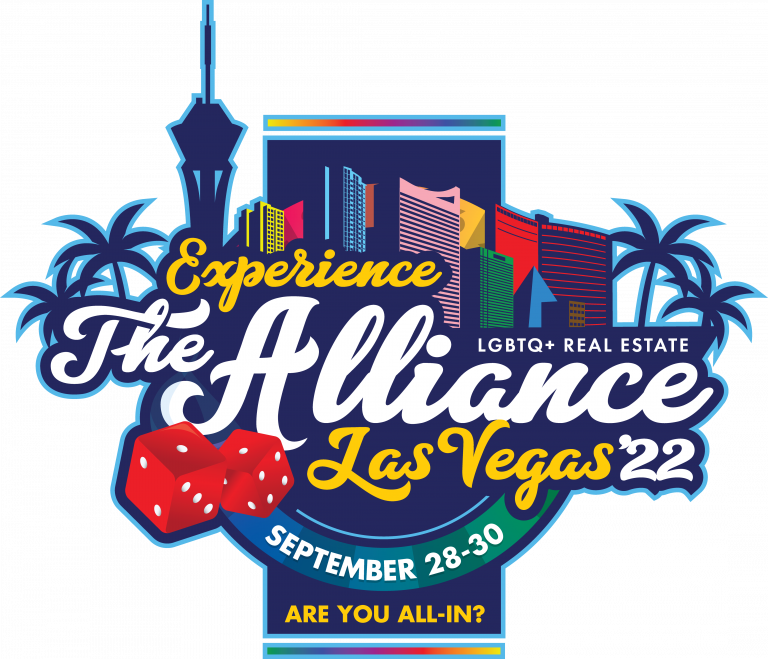 "Experience: The Alliance '22" - Las Vegas will be held Sept 28-30, 2022 at Resorts World Las Vegas
Special Thanks to Our Presenting Title Sponsors:
Experience The Only LGBTQ+ Real Estate &
Housing Industry Conference!
Have something to add to the show? 
Limited breakout session speaking/presenting opportunities are available for the convention.  All applications submitted by May 1, 2022, will be considered and evaluated.  Selected speakers will be notified no later than June 1, 2022 to confirm. Speakers are responsible for their own travel and accommodations.  Click here to submit an application!
Vendor?  Exhibitor?  Or, just have some cool stuff to share?
Expo booths are selling fast – Please contact immediately.  
Limited expo vendor registrations are still available for the 2022 Expo.  Additionally, limited 2022 Convention sponsorships are still available, but cannot be held nor guaranteed due to the pace at which they're being spoken for.  Please contact [email protected]realestatealliance.org to have a conversation about opportunities available.
11:00a-12:00pm
Board of Directors Q3 Meeting 
---
12:30p – 1:30pm
Chapter Presidents Lunch Meeting (Invitation Only)
---
1:00pm
Hotel Check in available
---
1:30p – 2:30p
Mortgage Advisory Council Meeting (Invitation Only)
---
1:30p – 2:30p
Policy & Advocacy Council Meeting  (Invitation Only)
---
3:00-5:00pm
Alliance Certified Ally Training (Public Admission sold separately through the education portal)
---
3:00-7:00pm
Conference Registration opens 
---
4:30 – 6:00p
Expo Opens
---
4:30 – 5:30p
Strategic Networking Seminar – University of Phoenix (Open)
---
7:00pm
Welcome Reception – Rose Rooftop
Join the Alliance leadership team as they toast to the official kick-off of the 2022 LGBTQ+ Real Estate Alliance Conference & Convention, "Experience: The Alliance."  A special welcome to the State of Nevada will be given by Nevada Realtors CEO, Teresa McKee.  This rooftop networking session will feature a stunning view of the Strip, provide light house music, and guests will be able to enjoy cocktails, mocktails, and light cocktail party hors d'oeuvres.
7:30-9:00am
Expo Opens 
---
7:30-9:00am
Breakfast – Continental
---
8:00-9:00am
Registration & 2022 Officer Voting Opens (E-Vote)
---
9:00am – General Session Opens
Opening Welcome (Emcee Carson Kressley & Alliance CEO, Ryan Weyandt) 
---
9:15am
President's Greeting (Alliance National President, Dave Gervase, and Immediate Past President John Thorpe
---
9:35am
LGBTQ Leadership – Anthony Hitt, CEO of Engel & Volkers Americas
Description To Be Announced
---
9:45am
How To Make a Meaningful Impression in Today's Media Environment – Matt Gentile, Managing Director at MyBFF Social
Description To Be Announced
---
10:10a
TBA
---
10:30am
Tim Wilson, CEO of Prosperity Home Mortgage 
Description To Be Announced
---
10:55am
TBA
---
11:10am
Rainmaker Roundtable – How Our Top Agents Made The List
This is YOUR opportunity to ask some of our top performing agents how they got there.  This session will be open to all attendees, but moderated for time. 
---
11:40am
TBA
Description To Be Announced
---
12:00pm-12:20pm
Break/voting/Expo
---
12:20pm-1:20pm
Luncheon Keynote – TBA
---
1:20-1:45pm
TBA
---
1:45-2:00pm
TBA
---
2:00-2:15pm
TBA
---
2:10p – 2:20p
Breakout Introduction
Breakout sessions #1 (Pre-Registration Required)
Breakout agenda to be announced 
---
3:20pm
Break/Shift
---
3:30pm
Breakout Sessions #2 (Pre-Registration Required)
Breakout agenda to be announced 
---
4:20pm
Break/Shift
---
4:30pm
Breakout Sessions #3 (Pre-Registration Required)
Breakout agenda to be announced 
---
7:00pm
Evening Reception & Entertainment – Location TBA
---
7:30-9:00am
Expo Open
---
8:00a
Breakfast – Buffet
The Alliance's JEDI (Justice, Equity, Diversity & Inclusion) Team Proudly Presents: "An Egguitable Breakfast"
---
7:30-9:00am
Registration
---
9:00am
Opening Session – Carson Kressley
---
9:15am
"The Anatomy of Top Performers" with Gino Blefari – President & CEO, Homeservices Of America; Chairman HSF Affiliates
Learn the Skills and Disciplines It Takes to Successfully Lead Yourself, Your Business and Teams
---
9:35am
TBA
---
10:05am
TBA
---
10:20am
TBA
---
10:50am
TBA
---
11:05am
"A Decade In The Real Estate Closet To Vogue": A Heart-to-Heart with Feroza Syed
Meet Feroza Syed, one of the most inspiring and fascinating people in the real estate industry. She began her real estate career by over a decade of work in the closet as a transgender woman who has now blossomed into a top agent with Atlanta Fine Homes Sotheby's International Realty. Along the way, Feroza has become a fierce advocate for the LBGTQ+, TGNC, and AAPI communities and worked diligently with numerous organizations to help elect President Biden and two Democratic Senators in Georgia. The Grand Marshall of the 2019 Atlanta Pride Festival has done so well she worked her way into the pages of Vogue, being featured for working with THC (Trans Housing Coalition.)
---
11:25am
Awards – Drew Griffin Beacon of Light Award and Tribute / Ally of the Year / Top Agent
---
12:35am
Break
---
12:45pm
Keynote Luncheon – Speaker TBA
Description To Be Announced
---
1:05pm
TBA
---
1:35pm
Break – meet & greet in Expo area / vote closed
---
2:20pm
TBA
---
2:30pm
The Value of Owning a Real Estate Franchise (panel) 
Mike Reagan – Moderator – SVP, Industry Relations & Global Growth & Development, RE/MAX
Panel – TBA
---
3:10pm
TBA
---
3:40pm
TBA
---
3:55pm
Our Gay History in 50 States – Zaylore Stout 
---
4:25pm
Cultural Keynote – Dominique Jackson
Model, Actress, Author, Advocate and Activist Dominique Jackson is best known for her leading role of Elektra Abundance on the FX television series Pose.  From fleeing persecution as a transgender woman in her home country of Trinidad and Tobago to starring in television hits, Dominique Jackson has seen it all. After experiencing homelessness and rejection from her own family, Jackson has used her success to shed light on the challenges transgender women like herself too often face.
---
4:45pm
Closing 
2022 Preview with 2021 President-Elect, Dave Gervase
2022 Final Announcements – Alliance CEO, Ryan Weyandt
---
5:00pm
Dismiss
---
7:00pm
President's Ball –Dress-To-Impress/Masked Ball – Zouk Nightclub
Election results and 2023 destination announced at opening
The Alliance realizes that our Members each have their own story.  We meet our members where they are, how they are and for who they are.  It is with that spirit in mind that non-alcoholic beverage options will be available at any/all evening events.  Further, the Alliance is working with the Southern Nevada LGBTQ Center to provide confidential, safe spaces on-site for both AA and NA meetings to occur during the course of the stay in Vegas.  Finally, all restrooms throughout the conference space will be gender-neutral and labeled as such.  Gender-specific restrooms will be available on the Casino level and in the Hotel towers for those who prefer.  Additional details on any of the above mentioned items will be available upon request closer to the event, or by reaching out to [email protected] 
Keynotes, Industry Speakers, additional breakout sessions, and more details will be announced throughout the next week.
Additional announcements to be made over the next several weeks.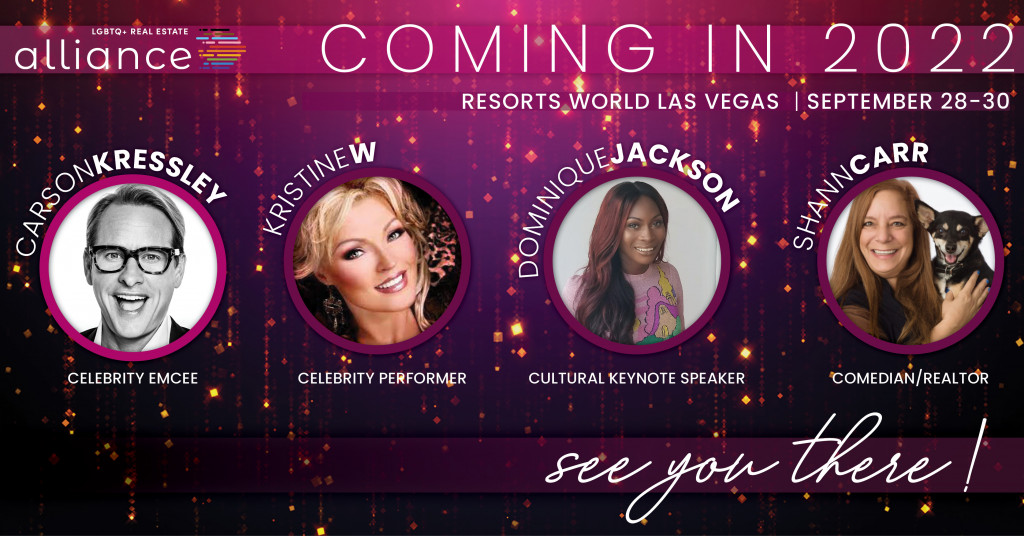 Experience An All-Star Lineup of Speakers & Talent!
Experience the Hilton at Resorts World or treat yourself to the Conrad at Resorts World - Either way, this World Class Resort Delivers! And, with the ONLY infinity pool on the Vegas Strip, the views will amaze.
Frequently Asked Questions