TO ACCESS THE PLATFORM ON DECEMBER 9th:
Check your email – your personal credentials and a link were sent out to all registrants starting on December 6th.  Make sure you check your spam folder too!  The email came from "[email protected]".
If unable to find, please email [email protected] and request your credentials, be sure to include your first and last name, and the email address you used to register.
If all else fails, please email [email protected]
Get ready to experience
growth
insight
life hacks
sales tips
inspiration
empowerment
R.O.I.
confidence
The Alliance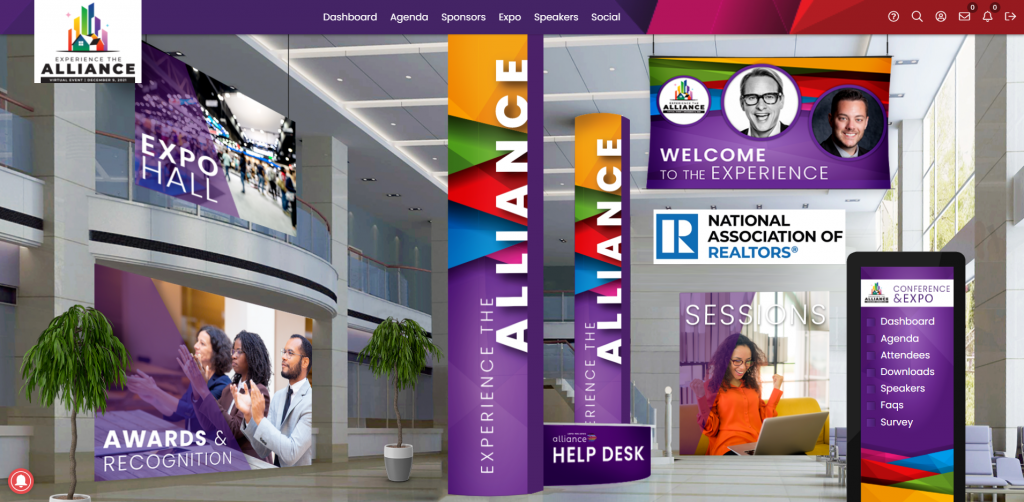 The Premier Virtual LGBTQ+ Real Estate &
Housing Industry Conference
On-Demand from the Lobby:
Carson and Ryan Unfiltered –
---
9:00a-10:00am Eastern Time
Expo Hall Open for Browsing
---
10:00a ET
Conference Opening, Greeting
---
10:06a ET
Welcome and President's Address –
---
10:21a ET
"The Value of Owning a Real Estate Franchise"
This panel of industry veteran's will provide insight to the value of franchising, competitive advantages, collective power of a brand, impact on industry and community and growing your business in a peer-based network of professionals.
---
11:07a ET
"The Importance of Serving the Underserved Communities" – Tim Wilson, CEO @ Prosperity Mortgage
Tim Wilson, CEO of Prosperity Home Mortgage, has literally taken his firm's commitment to helping diverse markets to the streets with the opening of their Philadelphia Community Outreach Center. This has given him a unique perspective on how to advance financial literacy and greater opportunities for home ownership for members of the Black, Hispanic/Latino, AAPI and LGBTQ+ communities.
---
11:30a ET
"Rainmaker Roundtable: Top Agent Masterminds Share All"
Learn from some of the best The Alliance has to offer! Michael Zinicola, Wendy Storch and Herman Chan are three of the top agents in the entire industry and are all included on the inaugural LGBTQ+ Real Estate Top Producers List. Gain insight into how they built their businesses, got to the top and stayed there while adjusting to market conditions and successfully adapted during the pandemic
---
12:04p ET
"Don't Disrupt Skill Set and Personalization Be True to Yourself and You Will be Able to Lead Others" – Tami Bonnell, CEO @ EXIT Realty International
No one can disrupt talent, and No one can disrupt somebody with a phenomenal skill set who is diligent and deliberate. But sometimes we can get in the way of preventing our own success. Join Tami Bonnell as she shows you how to position yourself as a talented real estate professional: one who not only has thorough market knowledge, but also can interpret and explain the information in a meaningful way to clients. Now is the perfect time to look at all the things you did right this year and do more of them. Tami's session will help you:
• Address what you can do to make sure your follow-up and follow-through is just as good.
• Explore what it is you need to learn to be prepared to serve people to the best of your ability.
Together, let's make you more prepared to succeed in 2021 and beyond.
---
12:28p ET
NAR Session – Leslie Rouda Smith, 2022 NAR National President
---
12:34p ET
 The Anatomy of Top Performers" – Gino Blefari, Chairman @ HSA Affiliates & CEO @ Homeservices of America
Learn the Skills and Disciplines It Takes to Successfully Lead Yourself, Your Business and Teams into 2022 from a true industry legend!
---
12:51p ET (Keynote)
Why Housing Was Pandemic-Proof And What Happens Next – Mark Fleming, Chief Economist @ First American 
Join us as Mark Fleming, Chief Economist with First American, provides us with expert insights, research, and market trends in today's unique housing market. This is your opportunity to hear Mark discuss: 
How this recession was different and how the recovery is measuring up
Why the housing market has done so well in pandemic
What happens next
---
1:40p ET
Lunch Break/Expo 
---
2:00pm – 2:30pm (Various Breakout Sessions)
Attendees will be able to select a session to attend during this time.  All sessions are available for viewing over the course of 30-days, from Dec 9 – Jan 7.  
---
2:30pm – 3:00pm (Various Breakout Sessions)
Attendees will be able to select a session to attend during this time.  All sessions are available for viewing over the course of 30-days, from Dec 9 – Jan 7.  
---
3:00pm – 4:00pm
Expo Hall Open for Browsing
Frequently Asked Questions
Thank You To Our Presenting Conference Sponsors