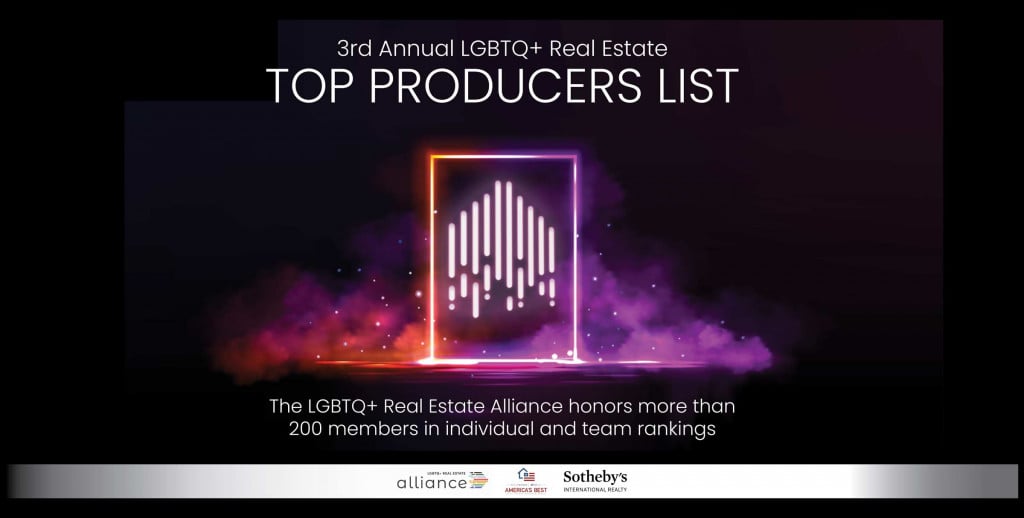 Top Producers List, Sponsored by Sotheby's International Realty,  Grew by 51%
St. Paul, Minn. (September 19, 2023) – The LGBTQ+ Real Estate Alliance today unveiled its third annual LGBTQ+ Real Estate Top Producers list and recognized 388 individual agents and teams for their 2022 production. This was up from last year's 251, an increase of 51% more honorees. The ranking, which was created in partnership with RealTrends and supported by Sotheby's International Realty, is the industry's only list recognizing top-producing LGBTQ+ and ally members.
Recognized Alliance members amassed $8.53 billion in sales volume while completing 15,919.3 transaction sides in 2022. The Alliance would rank as the nation's 23rd and 29th brokerage in volume and transaction sides, respectively, on the 2023 RealTrends Top 500 list.
PorchLight Realty Group with eXp Realty in San Diego, CA, led by Mark Pattison, led the team sales volume list for the first time producing $431.6 million in 2022. The EZ Referral Network with Keller Williams Citywide in Westlake, Ohio, led by Michael Zinicola, which had been the highest team producer for the last two years, dropped to second with $383.1 million. But they did lead the Alliance for a third-straight year in team transaction sides with 1,280 transaction sides in 2022.
Shirley Gary of Ansley Christie's Real Estate led all individual Alliance members for the third-straight year with 263 transaction sides and $191.4 million in sales volume in 2022. Marissa Boyle with eXp Realty in Charlotte, NC, finished second with 185 transaction sides, Andrew Manning, with Berkshire Hathaway HomeServices California Properties in Sherman Oaks, CA, was second with $116.4 million in sales volume.
Each is listed prominently on the RealTrends + Tom Ferry America's Best List.
"This list not only honors the incredible production of our members but helps showcase the standing the LGBTQ+ Real Estate Alliance has in the real estate industry," said Erin Morrison, President of the LGBTQ+ Real Estate Alliance. "It is incredible that our top members, if they formed their own real estate firm, would rank as one of the top 30 brokerages in the nation. Those on the list are honored on our LGBTQplusHomes.com, which has become one of the most useful resources for LGBTQ+ consumers and allows buyers and sellers to easily connect with LGBTQ+ and ally real estate professionals. It is hard enough to navigate the emotional and financial journey towards homeownership yet too often the LGBTQ+ community has additional concerns about discrimination and safety. Those on the Top Producers list, and our other members, understand and are best suited to provide community members with the comfort, security and professionalism they deserve."
"The Alliance has grown dramatically in its first three years, and we are honored to have been a founding partner," said Brad Nelson, Chief Marketing Officer, of Sotheby's International Realty. "We are honored to help recognize the agents and teams on the LGBTQ+ Real Estate Top Producer List that hold themselves to a higher standard in our industry and have achieved extraordinary results on their client's behalf."
The LGBTQ+ Real Estate Top Producers list is developed by RealTrends in concert with the RealTrends + Tom Ferry America's Best Real Estate Professionals rankings. Individual agents who are Alliance members were included if they generated at least 15 transaction sides in 2022 or $6 million in sales volume. Teams whose leader was an Alliance member, qualified if they generated at least 25 transaction sides or $9 million in sales volume for 2022.
The LGBTQ+ Real Estate Alliance has grown to more than 4,000 members since its launch in October 2020, with chapters spanning across the U.S., Canada, and Puerto Rico. Members can be accessed through their LGBTQplusHomes.com profile.
ABOUT THE LGBTQ+ REAL ESTATE ALLIANCE
The LGBTQ+ Real Estate Alliance is a 501(c)6 non-profit dedicated to empowering the LGBTQ+ community on the path to homeownership as we also advocate on behalf of the community on housing issues. The Alliance, founded in June 2020, is an all-inclusive organization that works to improve the professional lives of its members through a public-facing Alliance Referral Community. The Alliance began accepting members in October 2020 and has more than 3,800 members and dozens of chapters in North America. It was named the 2022 Inman News Innovator of the Year in the MLS, Association, or Industry Organization category. It was nominated for the same award in 2023. Its consumer-facing LGBTQplusHomes.com provides information on home buying and selling along with allowing the LGBTQ+ community the opportunity to easily contact Alliance members for their real estate needs. For more information visit realestatealliance.org.
Media Contact:
David Siroty
(908) 337-5865
[email protected]