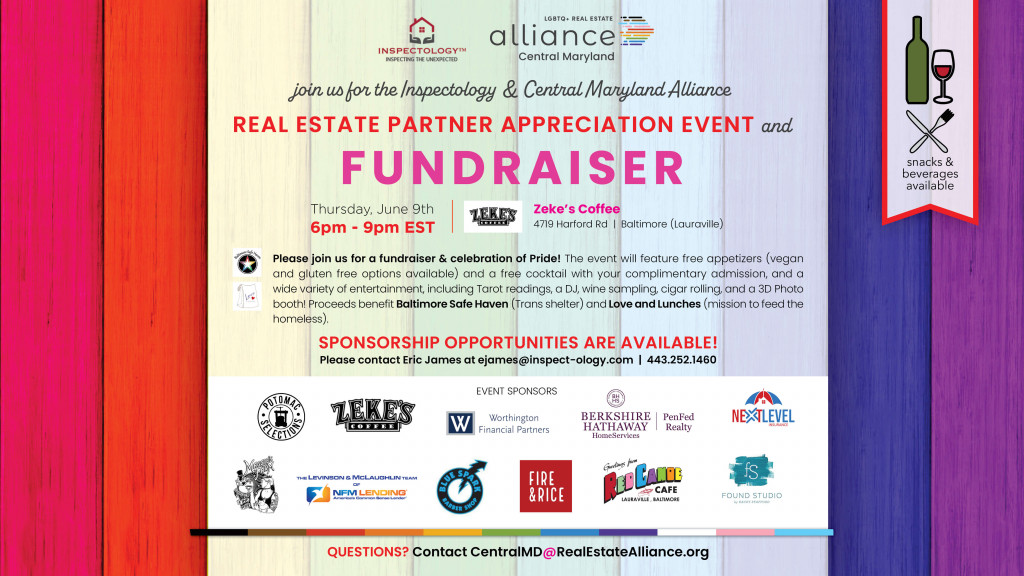 Pride Happy Hour Fundraiser & Open House (real estate, get it?) to benefit Baltimore Safe Haven & Love and Lunches! This event is also an appreciation celebration for all of our real estate partners that support both inspectology & the Central Maryland Chapter of the Alliance. All are welcome including our allies and we look forward to celebrating Pride together!
The event will consist of 10 free, themed appetizers (regular, gluten free and vegan) and your choice of a free signature cocktail. Zeke's will also be selling some of their products and craft beers/IPA's.
Entertainment: 2 tarot readers (free, tips only) , a DJ, cigar rolling & smoking area, wine sampling from a local wine import company and Picture Purrfect 3D Photo booth . Let's share the LOVE & Raise Some Funds!: Silent Auction & Raffle! We are currently soliciting local merchants for product donations for silent auction and raffle items. All proceeds raised at the event will benefit Baltimore Safe Haven (Trans Shelter) and Love and Lunches (homeless feeding mission). We will also have nationally recognized and locally published photographer James Trudeau who will be covering the event for social media purposes as we celebrate Pride month together.
Sponsorship opportunities are available if your company wishes to help sponsor this amazing event! Please contact Operations Manager and Event Coordinator – Eric James directly to take advantage of sponsorship opportunities. Eric James Operations Manager | Inspectology Secretary & Board Member | Central Maryland Chapter of the LGBTQ+ Real Estate Alliance Direct. (443)252-1460 Office. (410) 693-5539 x 700 Email. [email protected]