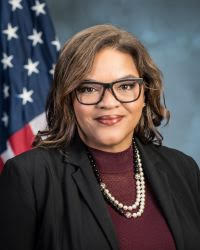 WASHINGTON, D.C. – Ginnie Mae today is welcoming Alanna McCargo, who was recently confirmed by the U.S. Senate and has been sworn in by Secretary of the Department of Housing and Urban Development (HUD) Marcia L. Fudge to become Ginnie Mae's 18th President. The Government National Mortgage Association known as Ginnie Mae was established in 1968 with a mission to expand affordable housing by guaranteeing mortgage loans and lowering costs of financing. As of November 2021, more than $2.13 trillion of Ginnie Mae MBS was outstanding, owned by investors in the U.S. and around the world. McCargo is the first Senate confirmed President for Ginnie Mae in nearly five years, and her confirmation is historic as she is the first woman in Ginnie Mae's history to hold this position.
"It is an honor to lead Ginnie Mae through its next phase of transformation, ensuring our MBS remains a secure, nimble, and reliable vehicle to support the U.S. mortgage market and continues to make affordable homeownership and rental housing available for millions of households and our veterans," said McCargo. "I am joining a solid and committed team that has maintained stability and results for the American people through the pandemic and very trying economic times. I look forward to working with the team and Secretary Fudge to strengthen Ginnie Mae's impact and advance our important mission."
Prior to her confirmation as President, McCargo was Senior Advisor for Housing Finance to Secretary Fudge. Before joining HUD, McCargo was Vice President of the Housing Finance Policy Center at the Urban Institute where she led and developed evidence-based research and analysis on the U.S Housing Finance system. She helped to advance the national policy conversation around reducing racial homeownership and wealth gaps and removing barriers to accessing credit and capital. McCargo also served as Executive Director of the Mortgage Servicing Collaborative, a cross-sector initiative that identified and developed policy recommendations for mortgage servicing and securitization reforms to enable stability for the housing finance system through all economic cycles. Her full biography can be found here.
You can learn more about Ginnie Mae on our website, www.ginniemae.gov and follow us on Twitter @GinnieMaeGov to stay up to date with our work.
About Ginnie Mae
Ginnie Mae is a wholly owned government corporation that attracts global capital into the housing finance system to support homeownership for veterans and millions of homeowners throughout the country. Ginnie Mae MBS programs directly support housing finance programs administered by the Federal Housing Administration, the Department of Veterans Affairs, the Department of Housing and Urban Development's Office of Public and Indian Housing and the Department of Agriculture Rural Housing Service. Ginnie Mae is the only MBS to carry the explicit full faith and credit of the United States government.