HUD Takes a Stand
Dear LGBTQ+ Real Estate Alliance members, partners, and friends,
I am thrilled to let you know that earlier today I represented The Alliance on a stakeholder briefing call hosted by the U.S. Department of Housing and Urban Development (HUD) and the White House that preceded an announcement that HUD will enforce the Fair Housing Act to prohibit discrimination on the basis of sexual orientation and gender identity.
Essentially, HUD is recognizing that housing discrimination based on sex also protects gender identity and sexual orientation. HUD will now accept and investigate discrimination against the LGBTQ+ community and enforce the Fair Housing Act where it finds discrimination occurred. I specifically clarified that this will be a joint exercise that includes the Justice Department, Consumer Financial Protection Bureau (CFPB), and Government-Sponsored Enterprises (GSEs).
It was an incredible reversal of what we saw from the last administration and is yet another wonderful example of how President Biden is walking the walk in supporting our community and providing us with the protections we rightly deserve.
Today's call included leaders from NAR, various Federal agencies, LGBTQ+ activist groups and non-profits, and others considered critical to the discussion about Fair Housing and the LGBTQ+ community. I hope you take great pride in knowing that in just a few short months, The Alliance is already seen as having a critical role in the housing industry.
While we have a long way to go and are eagerly awaiting the Equality Act returning to the forefront, I hope you will join in my excitement about what today's announcement means for our industry and community. Congratulations!
Yours in pride,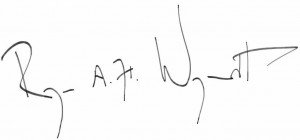 Ryan A. H. Weyandt
Chief Executive Officer
LGBTQ+ Real Estate Alliance