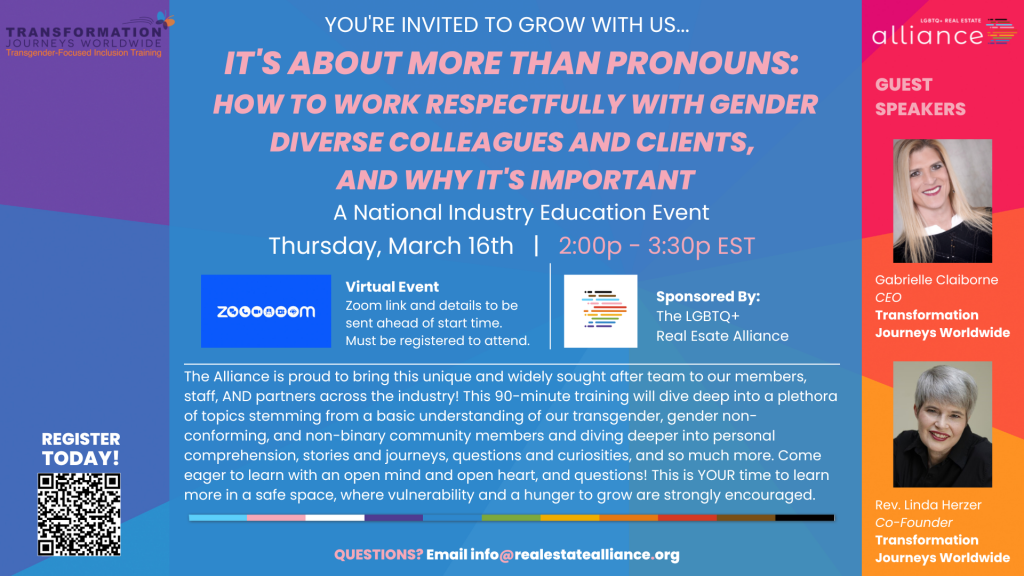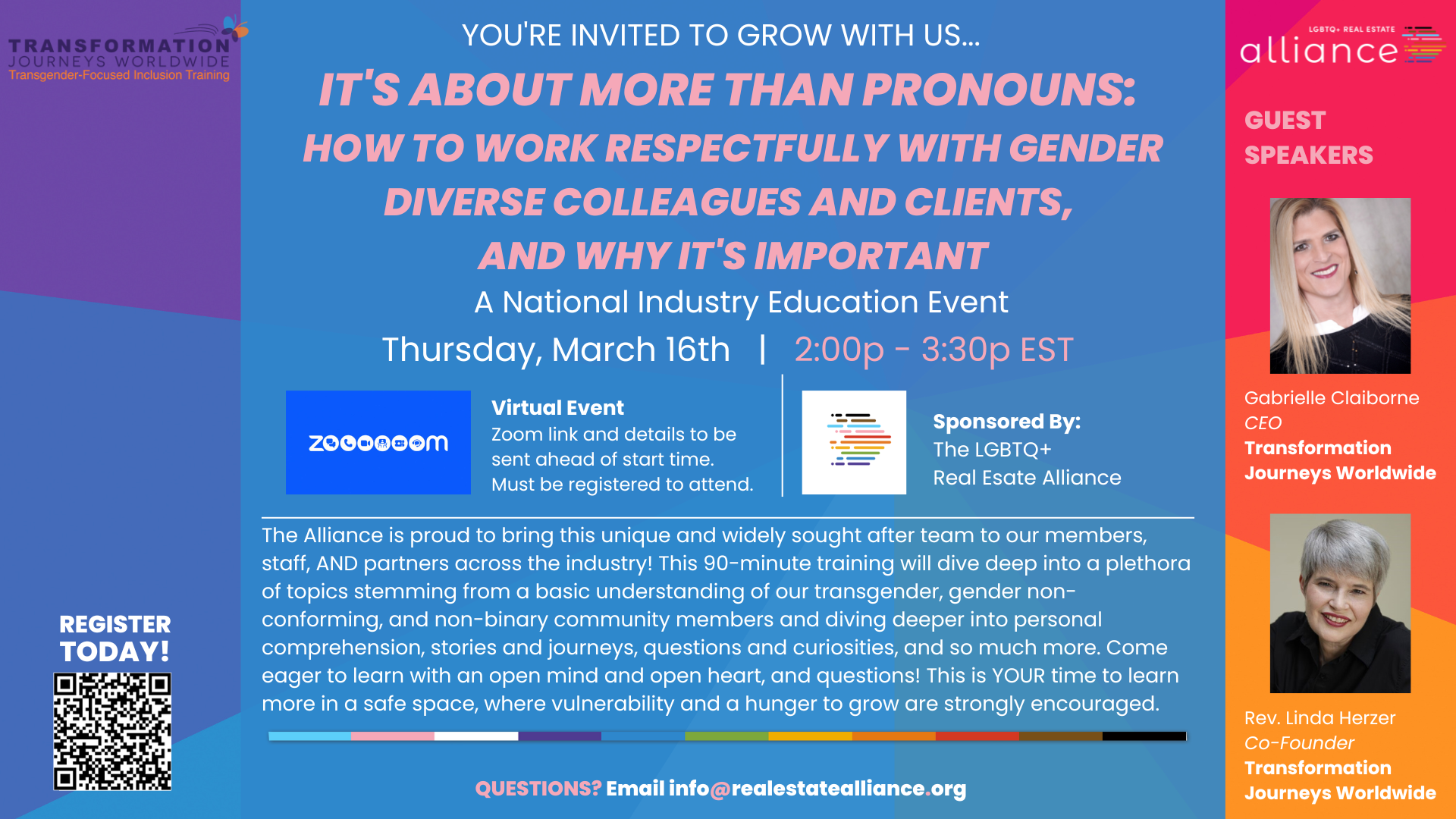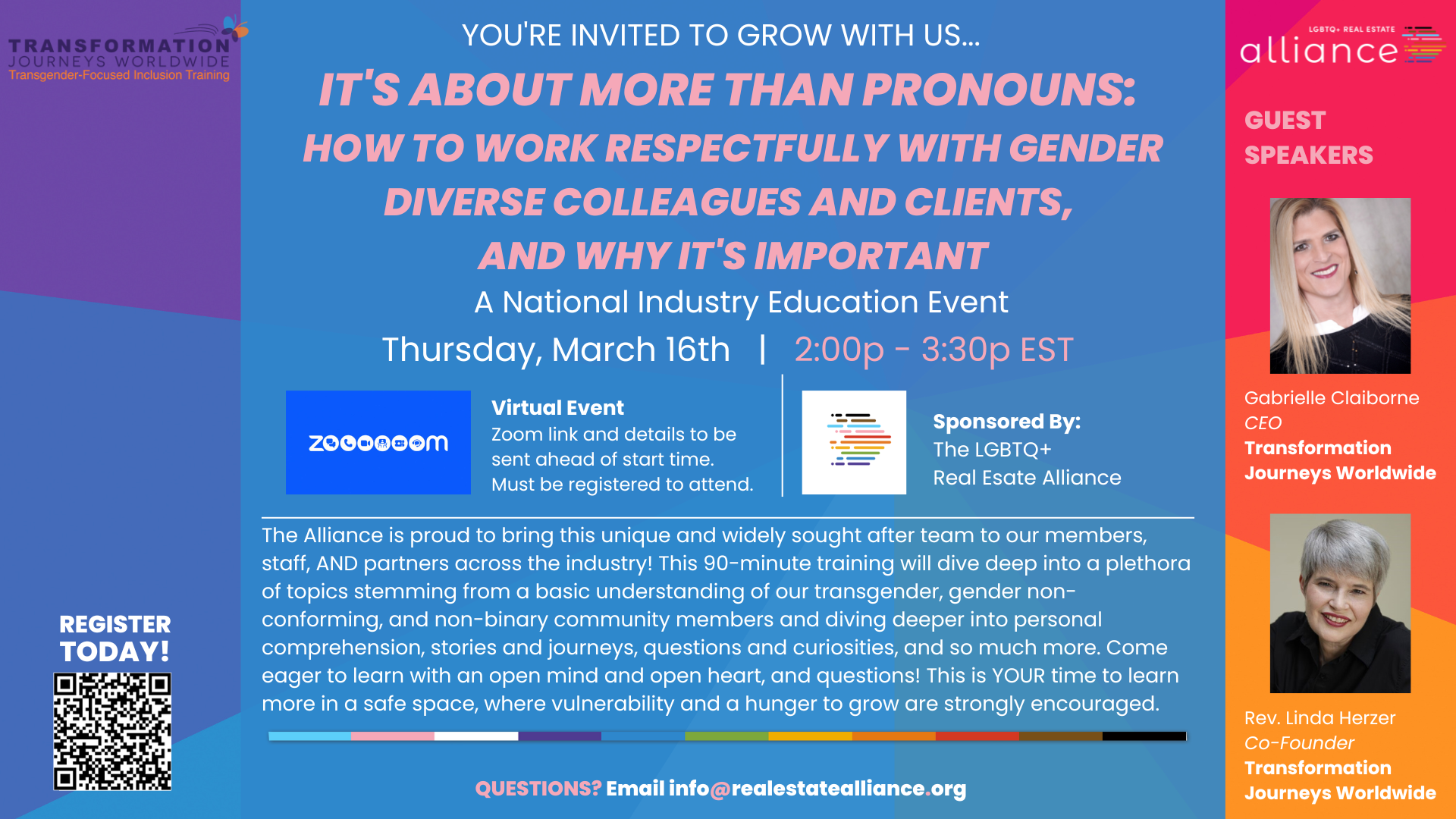 The Alliance is proud to bring this unique and widely sought after team to our members, staff, AND partners across the industry! This 90-minute training will dive deep into a plethora of topics stemming from a basic understanding of our transgender, gender non-conforming, and non-binary community members and diving deeper into personal comprehension, stories and journeys, questions and curiosities, and so much more. Come eager to learn with an open mind and open heart, and questions! This is YOUR time to learn more in a safe space, where vulnerability and a hunger to grow are strongly encouraged.
Gabrielle Claiborne and Rev. Linda Herzer are Co-founders of Transformation Journeys Worldwide, an inclusion training and consulting firm with a transgender and non-binary focus. They help cutting-edge organizations position themselves to attract and retain the best talent, foster collaborative working environments, thus maximizing innovation and directly impacting the bottom line by creating fully gender diverse-inclusive cultures. Some of their clients include Habitat for Humanity International, Home Depot, Sun Life, Royal Bank of Canada, Bank of America, Salesforce, JLL, Jamestown, LLC, Comcast, Mercedes Benz, UPS, Kaiser Permanente, WarnerMedia, Papa John's, the Atlanta Hawks, and the Centers for Disease Control, among others.
Gabrielle currently serves as Co-Chair of the National LGBTQ Chamber of Commerce's Trans & Gender Expansive (TGX) Initiative, as Co-Chair of the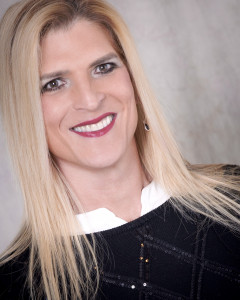 Trans Affairs Committee on the City of Atlanta's LGBTQ Mayoral Advisory Council, and as Secretary of the Out Georgia Business Alliance and chair of their TGX360 Employment & Entrepreneurship Initiative. In 2022, she received the Georgia Diversity Council's LGBTQ Leadership Award, and in 2020 she published her memoir, Embrace Your Truth: A Journey of Authenticity. In 2019, the Atlanta business Chronicle acknowledged her as their Diversity & Inclusion "Outstanding Voice" Award recipient and she delivered a TEDx talk for Centennial Park Women TEDx. In 2018, Gabrielle was honored as the Georgia Small Business Administration's LGBT Small Business Champion Award recipient in recognition of her efforts in advancing LGBT business ownership and her work has been featured in Forbes and the Atlanta Business Chronicle.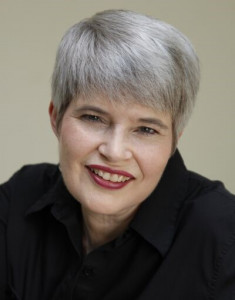 Linda is a strong advocate for the trans community, a seasoned curriculum developer, experienced trainer, and author of The Bible and the Transgender Experience: How Scripture Supports Gender Variance, a ground-breaking book with insights that have brought her invitations to speak and preach throughout North America. She has served as cofacilitator of support groups for transgender youth and adults, and their parents and spouses and in 2020, she was the recipient of the Georgia Diversity Council's LGBTQ+ Ally Award for her advocacy work in the LGBTQ community.
Transformation Journeys Worldwide was honored to be chosen as the Out Georgia Business Alliance 2018 Small Business of the Year, and to receive the Atlanta Hawk's prestigious 2019 True Comes in All Colors award for their cutting-edge inclusion work. The firm is proud to be an NGLCC certified LGBT Business Enterprise.